1. Shoe Bathtubs by Italian SICIS
2. Chair style bathtube designed by Studio Tholl.
3. Hot Rod Tub –  $26,000 bathtub from artist Tetsuya Nakam
4. Designer Ron Arad teamed up with the Italian bathroom design brand, Teuco, to bring us Spin Wash – a bathtube that can
turn into shower.
5. Overflow bathtub from KÄSCH. [link]  
6. Mosaic by  Lucedentro – it accumulates light during the day and glows in the dark. It works just like any other fluorescent elements .
7. LTT Illuminated Bathtub  add some light to your bathroom. [link]
8. Stylish Walk In Bathtub designed by MAXX Professional  
9. Natural Bathtub [link]

10. With STOLISwood-made bathtubs your bathroom turns into a spa
11. Heart Shaped Whirlpool Bathtub [link]
12. Boat Bath-tub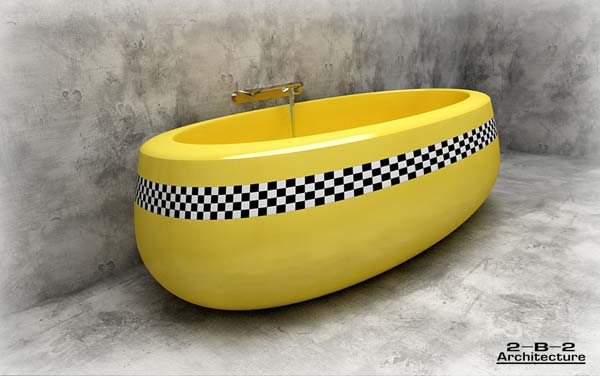 13. Taxi Bathtub
14. Le Cob Bathtub [link]
15. Square Bathtub [link]
16.  Aquarium Bathtub –  comes with a stylish built-in aquarium. [link]
17. Sorrento Bathtub – based on the traditional Japanese ofuro. [link]
18.  Bookcase Bathtub by Antonio Lupi  [link]
19 . Glass Bathtub [link]
20. Infinity Bathtub designed by Aleksander Mukomelov. [link]
21. Huge Sink Bathtub by Flamina 22. Cocount Bathtub