18 Most Creative Dish Drainers Design
1. Grass drying rack – BPA free plastic and made to hold all those little fiddly bits you use to feed babies and toddlers
2. Tessellated Dish Dryer by  Matias Conti – oceanic inspired
4. Joseph Joseph Arena Dish Drainer
5. Perera's system of flexible racks – makes it easy to take out the ones you need for a particular occassion and then tuck them away when they are not in use.
6. The Herb & Spice rack by Ran Shnaper does not let go off the waste water that trickles after washing the dishes. It directs the waste water into the herb section to grow herbs or spices, such as mint, lemon verbena or thyme.
7. Trio Dish Drier by Jordan Bailey as #6 have same functionality different design.
8. Self-Drying Dishware by Ernest Perera addresses the problem of too-full dish rack.
9.  House Dish Rack


10. Progressive Collapsible Dish Rack  from Sur la Table
11. Apple Dish Drainer – cool one although it does not have Apple iPhone included 🙂
12. The Magis Dish Doctor Drying Rack by Marc Newson
13. Black + Blum's High&Dry rack.
14. Simplehuman Steel Frame Dishrack 

15,16. Umbra's Basin Dish rack and Tub rack are two simple plastic options available in a few different colors.
17. The Modular Dish Drainer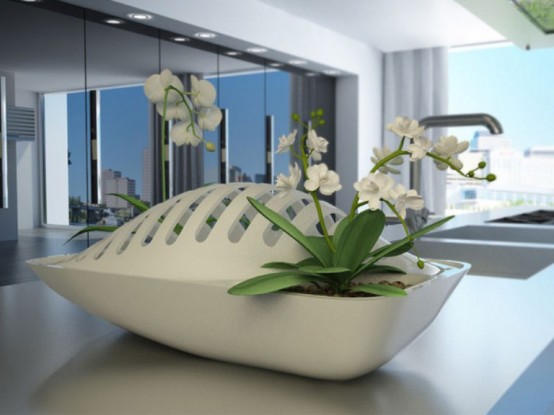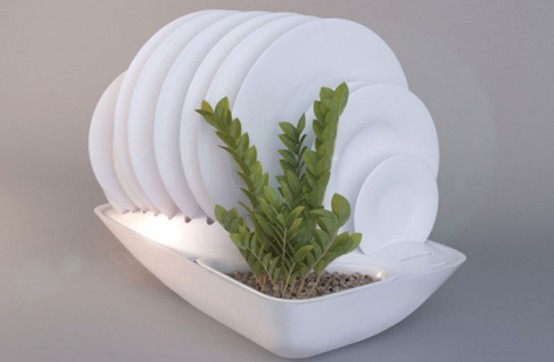 18.  love this shape
19. Arch drainer
20. Jumbo Curtlery Drainer – word patent in removing the water from the bottom back to the sink