Here are 50+ creative ways to remind you of your to-do list 🙂
1. Band Aid Sticky notes
2. Woods by Peleg Design – cool keyboard notes that will make your  keyboard environment to more "green".
Pack of 100 notes, Buy it here (9.99$, FREE shipping worldwide!).
1. Knot Block – comes with 600 2-1/4″-square pine-inspired
4. Apps-on – Post-its that look like your  iPhone
5. Disk-it – 3.5" floppy disk shaped sticky notes – new meaning for "saving" on disk. Buy it here.
6. Twitter Post-it – For all you twitter fanatics out there! By César Santiago.
7. Pantogar Memo Pad – it will loose hair as you use it more 🙂
Created by JWT, Hong Kong.
8. Talk to the Hand – you have 300 chances to get your point across in each pad. Buy here.
9. To-Do Tattoo – for anyone who's ever scribbled a reminder on their hand or wrist – include 12 transparent tattoos.
10. Murder, Ink  – as if it was a crime scene
11. Kudamemo Fruit Notepad – look like delicious apples and pears from the outside, but look closer and you'll discover that they're made of 150 premium sheets of note paper, each printed like a fruit cross-section.
12. Toasted Notes – notes that yu can not miss
13. Selifusen
14. Black Post-it Notes
15. Einsteinian Gluons – Buy here.
16. Origami Sticky Notes – turn your memo in to 3D model! Buy here (8$).
17. Flip Book – sticky note pad with various illustrated animations.
18. AquaNotes – made of non-toxic and recyclable waterproof paper.
19. Fuck Nasty Notes – choose your "fuck". Buy it here(6$).

20. Mental Notes, this is where you can really prioritize your work –Buy it here ($5)
21. Read My Lips – for your romantic notes
22. USB Memo – USB that holds 100 Post it Notes.
23. Watch Sticky Note Designs – Take your sticky note and stick it around your hand. Just like a watch! (via PA Design)

24. Ginko Leaf Sticky Note – looks like the ginko leaf.
25. Error Message notes –  Buy it here ($5)

26. Mini TV Sticky Notes
27. Pebble Notes – Buy it here (5$)
28. Forget Me Notes Flower Petals – Buy it here.
29. Butterfly sticky notes – $3 Buy it here
30. Tetris Sticky notes,  Buy it here (6.28$).
31. Playing cards memo pad  , Buy it here (6$)

32. Switch Notes by Suck UK – leave it where they'll be seen.
33. Save Post  –  Tear off just the amount you need, and leave the rest for later…
34. Leaf Post It  – eye catching notes
35. Christmas Tree Post It Note – get some holiday spirit on your desk made by SUGAI WORLD
36. Mustache Sticky Notes [via (Japaneese)]
38. Masterpiece Sticky Notes: Use these notepads bring out your inner Picasso.
39. Sushi Memo Block
40. Handy Sticky Notes: With these sticky notes you can make a point, give thumbs up, and some more. Buy here.
41. 8-Bit Hand Sticky Notes Pad
42. Brick Sticky Notes: These sticky notes shaped like red bricks will turn any wall into a realistic looking brick wall.
43. Building-Shaped Sticky Notes: Naruse-Inokama Architects took unused wood from homes, turned them into paper, and then made little building-shaped sticky notes.
44. Geometry Sticky Notes: Make your day brighter using 9 different designs to choose from these geometric stickies.
45. Pie Chart Sticky Notes: Each set is made up of some great colors and combines graphs & sticky notes (and pie!).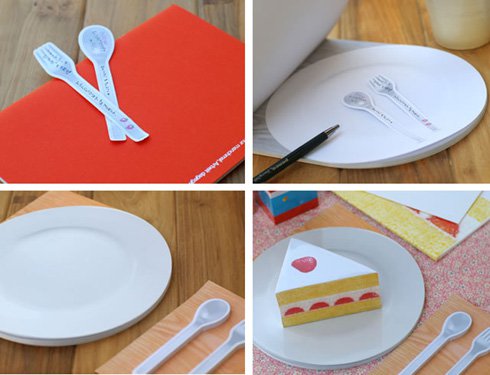 46. Spoon and fork

47. Bulb sticky notes
48. Memo Clock by designone – just write notes next to the clock
49. Memo pad + Clock
50. Air Mail Notes by perpetualkid
51.  Silly Shaped Page Markers by Suck UK, Buy it here
52.