Recognize the inspiration for this shoe?
Inside more amazing footware designs and my expirence from a special meeting held last week.
Last Friday I got a chance to meet  Kobi Levi among leading design bloggers from designboom, weheart, dezeen, booooooom and detnk.com at a meeting held in a studio shared by Peleg Design, Ototo Design and Customade.
One responsible for this gathering is Kinetis, a nonprofit apolitical social startup that aim to generate global awareness for the creativity coming from Israel – that's where all these great designers come from.
Kinetis managed to gather 5 of the top design bloggers to come visit Israel for a week and explore different aspects of design, art, lifestyle and architecture exist here. Follow their websites to read about it.
Since I swear not to reveal any detail about Peleg Design and  Ototo Design new products (scheduled to February 2012) I would like to share  the new footware designs from Kobi Levi .(if you have not read our last post with kobi click here).
Right to left: Jeff Hanada (from booooooom), Amy Frearson (dezeen), James Davidson (weheart), Udit (Israeli blogger from Saloona),  Johanna Landau and Adi Kaplan (Kinetis) and Andrea Chin (designboom).
Kobi Levi, a footwear designer from Israel that just turned independent creates amazing footware designs inspired from animals, objects and even well knowen figures like Olive Oyl and Madonna. Each shoe takes about a month to prepare from scratch all hand made solely by Kobi and the end result is truly WEARABLE!!!
Kobi with Andrea Chin (designboom) presenting the Madonna and Cat shoes.
Kobi's recently work includes the Olive Oyl, Mom and doughter, chinese, coffee and elephant inspired shoes. Enjoy the pics:
Mother & Daughter
Contemporary Chinese – East meets west, fire dragon inspired upper with chop-sticks stilettos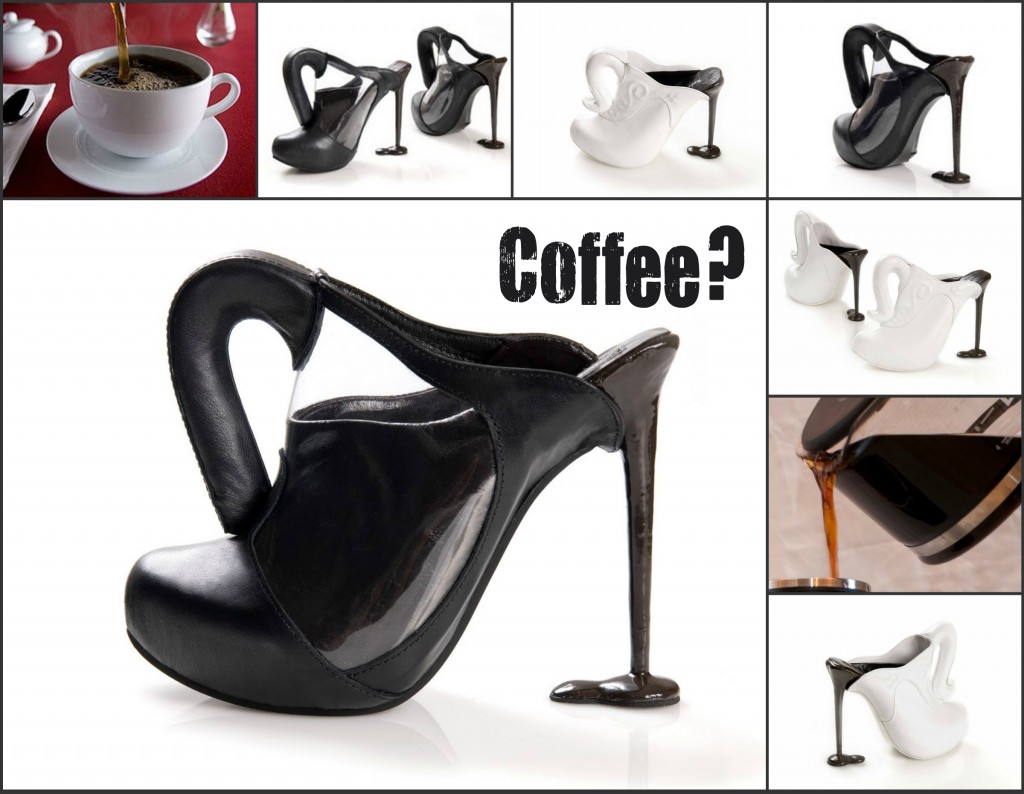 Coffee? two version for this shoe: porcelain white and diner black
Elephant : Made of Leather, elegantic and shic.