Above: Heineken Halloween , McDonald's: Come as you are, Pizza Hut – Halloween Menu
Mini witha special offer for Halloween
Miller Lite: Halloween:  Sink your fangs into great taste
LG

Levi's
Witches' day do not drink and drive
 Craftsman – advertisement we see a skeleton made out of wrenches and tools.
Movistar – Halloween Promoton
m&m: Halloween
Society of Spiritualists: Halloween
Burger King
White Night Condoms
Fisherman's Friend
McDonald's – Happy Halloween

Guinness – Happy Halloween
Guinness Beer: Celebrate Halloween with Guinness. October 31st
Iglo Soup
Lucy Anderson, Anti-Aging treatment for mature skin: Intensive anti aging treatment for deep skin regeneration, with immediate lifting efect\
STP (Motor-Oil Company) – Happy Halloween
Volkswagen Beetle – Trick or treat?
Comic Club
ReQuip: Halloween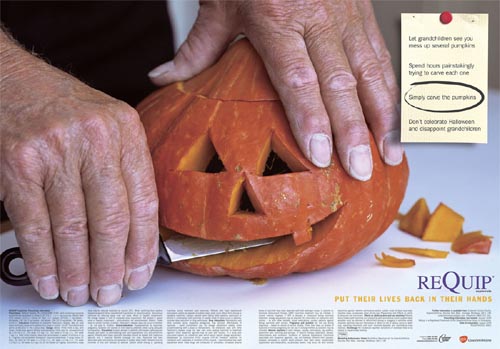 Snickers: Mr Smith
Snickers: Mrs Whithers 
Screamfest
San Fransisco Zoo: Owl 
San Fransisco Zoo: Giraffe
San Fransisco Zoo: Koala 
Calgary Zoo:  Dinosaurs Alive!
Trendy: Halloween 
Burger King: Veg City, Halloween
Heineken Halloween Night
Lynx Deodorant
In&Out Gay Bar – Halloween Party
Riverside Properties – Don't drink and drive this Halloween
ETV Channel – Halloween Movie Festival
Catalonian National Theatre: Let us play with your emotions. Come to the TNC.
Universal Studios:  Live the nightmare. This Halloween, Freddie Krueger is loose in the park
Nike