15 Cool beds I want to sleep on

More …
Above: hamburger bed
Designed by Dutchman Janjaap Ruijssenaars, this magnetic floating bed has enough magnets to keep 900 kilograms (1,984 pounds) floating in the air. Technically, the magnetic floating bed is for sale… but it is priced at 1.2 million euros ($1.53 million), you will not likely find this in your local mattress store.
Created by Napshell, ergonomically designed to be good for your back and spine, the Napshell bed's super comfy shaped mattresswill fit a wide range of body types and heights. I love naps, this is great.
The Feel Seating System, designed by Animi Causa is made of 120 sofa balls covered with elastic fabric. It is inspired from the molecular structure and takes up in all different forms and shapes.
Housefish Suspended Bed
Creative suspended bed held by machined aluminum, stainless steel tension cables. The mattress platform is held completely rigid – it does not swing or sway. [link]
Float Bed
$25,000 Float Bed by David Trubridge, a New Zealand designer. [link]
Sampon Daybed Outdoor Bed
Amazing outdoor bed design from Lifeshop Collection. [link]
Floating Bed Chicago
Floating Bed Chicago by Robert Bernstein – the four supporting cables at the corners of the bed go straight up vertically to the ceiling. [link]
Geometric Bed
Ness faceted geometric bed by Jakob+MacFarlane. [link]
Private Cloud Rocking Bed
The Private Cloud is a patented rocking bed by German de signer Manuel Kloker. [link]
Sunset Chaise Lounge
This elegant piece by Rausch, designed for luxurious poolside lounging, could easily be mistaken for a dramatic outdoor sculpture. [link]
Terminal 1 Daybed
It is elegant, fluid, and harmonic, starting from a lucid plastic body, floating on a metallic frame, and varnished with the same colour but with a matt finishing. Its shape invites and supports its double function as an arm-chair and chaise longue. [link]
The Scoop Bed
Scoop! is a sophisticated and innovative answer to the demand for combinig the sofa function with the bed function. The two semi-circular sides of the bed can be separated resulting in two new pieces of furniture. [link]
Disposable Cardboard Bed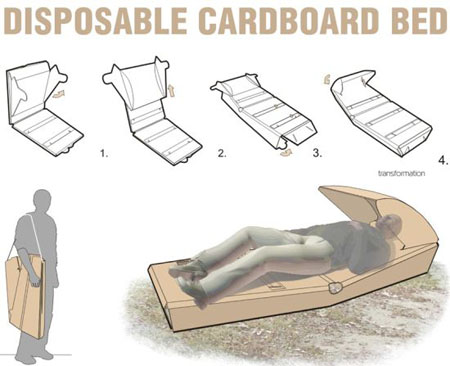 Innovative bed design that may prove handy for poor homeless people worldwide. [link]
Ohm Transformable Bed
Ohm is a bed that can be transformed into two individual beds or used as a bench. [link]
Related Posts